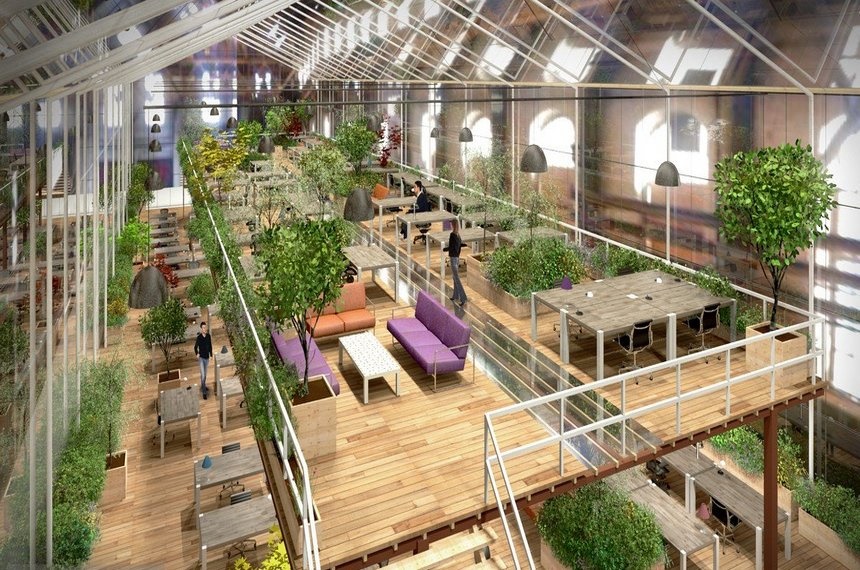 Think green while selecting your head office
We spend about a third of our lives at work, most of us indoors. The environment we work in, therefore, has a significant impact on our physical and mental health as well as on our motivation and performance. Despite this, very few people are interested in what qualities our offices possess. People often work in overcrowded and plainly equipped open-plan offices, which do not offer their occupants sufficient comfort for work and often have problems with the quality of the indoor environment. Did you know that the air inside buildings is oftentimes more polluted than outdoors and responsible for half of our ailments?
Experts' findings are alarming
According to a Human Spaces report, which looked into the work environment of 3,600 employees from 8 EMEA countries, 55% of the office workers had no live plants in the office, 42% of the employees had no natural light, 22% did not have a quiet place to work in when at the office. In addition, an Aon Hewitt study found out that as many as 63% of the respondents come home tired and exhausted. According to a Forbes survey, more than a third of employees (36%) would give up a part of their income to feel happier at work and work in a more pleasant environment. A FlexJobs survey showed that more than 90% of the respondents prefer completing an important task or project out of office. Over a half of them prefer home as a place for their work.
What to do about it? The answer is go green
In September 2014 teams of experts from around the world produced a study entitled "Health, Wellbeing & Productivity in Offices: The Next Chapter for Green Building", in which the World Council for Green Buildings published the results of research into the impact of the design and comfort of offices on people's physical and mental health and performance. The study particularly inquired into the link between the quality of the office environment and employees' health. It monitored, for example, indoor air quality, indoor temperature, daylight penetration, noise levels, the layout and functionality of individual parts of offices, individual employees' window views, and the presence of green plants in the building and in the offices. The experts also assessed the influence of the location in which the offices were found, and the availability of services.
According to the study, if they evaluate and optimize individual areas, companies can improve their strategies concerning two costliest aspects of each business - people and premises. At the same time, they can discover how these two worlds influence each other.
Focus on this can bring companies much higher savings than focus on energy savings. Labour costs, including salaries and benefits, usually constitute up to 90% of a company's operating costs, compared to 1% that companies expend on energies and 9% that they spend on rent. Even minimum improvements in employees' health and well-being can thus have enormous financial benefits for employers (for example, lower staff turnover and absenteeism rates, higher motivation and productivity).
What we recommend: 
If possible, choose a green building for your head office. According to Directive 2010/31/EU, all buildings built after 2020 are supposed to consume almost zero energy. So-called "green buildings" go beyond what is required. According to the Slovak Council for Green Buildings, green buildings are characterized by being friendly to the environment (synergy with the location, community, and culture, savings of energy and other resources, use of renewable materials), bringing significant savings during the life cycle of the building (energy and water, durability and quality), and, last but not least, by being considerate to people who work and live in them (they provide a supply of healthy fresh air without harmful substances, correct lighting, thermal comfort, sufficient room for life and professional needs) and thus fostering people's comfort, creativity, and productivity. By the end of 2016, 20 buildings in Slovakia had obtained international environmental certification. 
Find more information here: http://www.blf.sk/blf-topics-environment-en

Sources:
http://bit.ly/flexjobs_productivity
http://bit.ly/Green_Buildings_Study
Authors: Tatiana Čaplová, Ivana Kullová (Pontis Foundation)