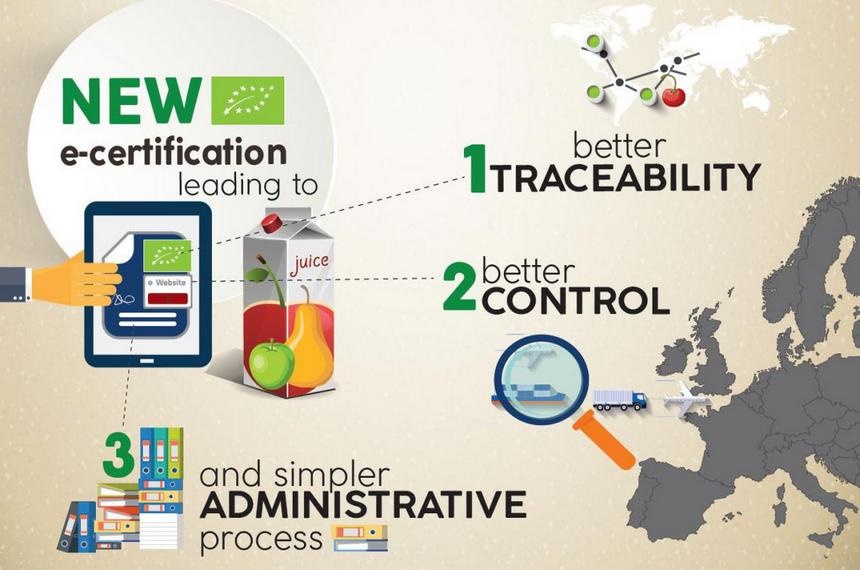 New EU electronic certification system will improve food traceability
According to the 2000 White Paper on Food Safety the ability to trace and authenticate food products throughout the food chain is a key issue for the EU food industry so in 2002 General Food Law made traceability compulsory for all food and feed businesses.
Traceability is defined as the ability to track and follow a food, feed, food-producing animal or substance that will be used for consumption, through all stages of production, processing and distribution. Food or feed which is placed on the market in the EU must be adequately labelled or identified to facilitate its traceability, through relevant documentation or information in accordance with the relevant requirements of more specific provisions.
On April 19th 2017,a new system of electronic certification to better monitor imports of organic products was implemented, which will result in better traceability and in the collection of reliable data on trade of organic products.The new electronic certification system will contribute to enhancing food safety provisions and reducing potential fraud. It will also reduce the administrative burden for operators and authorities, and provide much more comprehensive statistical data on organic imports.Both paper and e-certification will be used during a six-month transition period, after which organic imports will be covered by e-certification only. These import certificates will be added into the Trade Control & Expert System, the existing EU electronic system for tracking movements of food products across the EU which has been shown to facilitate trade by enabling trade partners and authorities to easily obtain information on the movements of their goods and speeding up administrative procedures
New rules are expected to improve the traceability of food products, enable better control throughout the whole food chain and enhance supply chain management through effective information exchange, use of electronic systems and standardisation. They will also enhance consumer protection, reinforce the public's trust in supply chains and help reduce concerns about international trade, thereby resulting in a more comprehensive and efficient food policy.
Sources:
https://ec.europa.eu/commission/news/imports-organic-products-new-eu-electronic-certification-system_en
http://www.eca.europa.eu/Lists/ECADocuments/SR12_09/SR12_09_en.PDF
https://ec.europa.eu/food/sites/food/files/safety/docs/gfl_req_factsheet_traceability_2007_en.pdf
http://ec.europa.eu/dgs/health_food-safety/library/pub/pub06_en.pdf
Author: The Croatian Institute for CSR