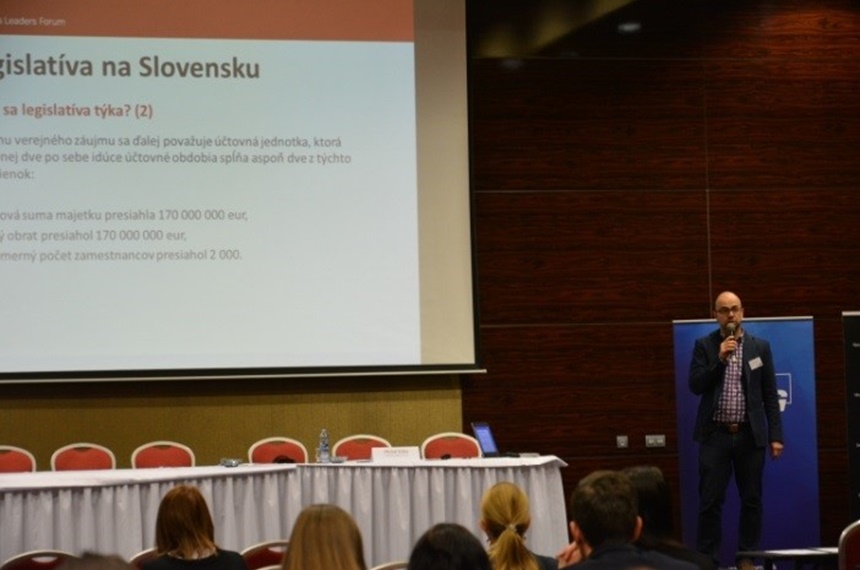 Firms could learn about CSR Reporting Methods at Slovak Compliance Days
Pontis Foundation strives to educate the Slovak public and businesspeople about non-financial reporting.
Slovak Compliance Days 2016 is a regular event organized by The Slovak Compliance Circle organisation. This year, it was held in Trnava on November 8 and 9, 2016, under the auspices of the Slovak president, Andrej Kiska, with the topic "Judicial Responsibility of Legal Persons – Compliance". Many people from the business sector (e.g. Tatra Banka, TaylorWessing), members of Slovak Compliance Circle, representatives of non-profit organisations (e.g. Via Iuris, Aliancia Fair-play) and dozens of experts from the public sector came to the workshops. Pontis Foundation and Business Leaders Forum (BLF) couldn´t be missing.
The program was rich, presenters focused on judicial responsibility of legal persons and Slovak compliance standards, visitors vividly engaged into thematic discussions, which were held within each workshop. Workshops openly dealt with issues, such as how the masses regard compliance or the implementation of the new European Union directive on disclosure of non-financial and diversity information. Michal Kišša, Executive Director of BLF and Senior Program Manager for CSR in Pontis Foundation, aimed at the aspect of non-financial reporting.
In his presentation, M. Kišša spoke about the newly passed amendment to the Act No. 431 / 2002 on Accounting, according to which dozens of companies in Slovakia are bound to report on CSR. This Act is based on the Directive of the European Parliament and of the Council of 22 October 2014. Non-financial information disclosure becomes obligatory on January 1, 2017. However, first reports and information is not to be published before 2018. Therefore, Slovak firms are expected to disclose information about its progress in "corporate social responsibility" and "diversity policy". He also explained the methodology of CSR reporting and the current state of reporting in Slovakia at his workshop. The best practices and the best reports in accordance with GRI G4 standards from Slovakia, including firms Heineken Slovakia, VUB bank and Slovak Telekom, were presented to the audience as well.
Raising public awareness of CSR reporting and the EU Directive on non-financial reporting including its implementation in Slovakia´s business environment, can be seen as part of the Pontis Foundation initiative related to the Hi4CSR project. The following initiative is planned to be our presenting at Night of Chances, which is a student centred event organized by Nexteria on November 30, 2016. The expected audience accounts for more than 500 people. Our presentation will be focused on the topic of non-financial disclosures from the point of view of newly established businesses.
Author: Tatiana Čaplová (Pontis Foundation)